Future of ICC Probe of Israel's War Crimes in Palestine | Opinion
While the International Criminal Court is determined to pursue the truth of human rights abuses and war crimes in Palestine, Geopolitical barriers like the Israel's Opposition, United States' Sanctions and Prosecutor Ms Bensouda's replacement will determine the future of one of the most vital ICC Investigation because it's the closest Israel has ever been to reap what it has sown over the decades.
International Criminal Court/Trialinternational.org
"A few days after my new state occupied my village, I became a prisoner of war rather than a citizen."
Remarked a Palestinian native who remained a prisoner for a year and then faced expulsion to the West Bank after his village Tantura came under the authority of the Jewish State on May 15, 1948, in the view of UN Partition resolution. Although he was luckier in comparison to others of his age bracket who were massacred.
Gaza in Crisis: Reflections on Israel's War Against the Palestinians, Noam Chomsky
FATOU BENSOUDA "I am a victim-oriented person. I like to see that the victims know that they have a voice."" />
Fatou Besnouda - Hiroko Masuike/The New York Times
Wednesday Press release issued by the International Criminal Court announced the formal launch of Investigations into War Crimes by both Israel and Palestinian militant groups since June 13, 2014, primarily a few weeks before the start of the catastrophic 50 -Day Gaza War, one of the deadliest Israel-Palestine conflicts in decades where Operation Protective Edge initiated by Tel Aviv on 8 July 2014 accompanying airstrikes with ground invasions, ravaged 2104 Palestinian souls including 1462 Civilians, 495 of which were Children with 253 women according to the United Nations.
The Israeli offensive which cost Tel Aviv 2.5 billion $ and 0.4% GDP loss, also wounded 10,895 Palestinians, while destroying 7,000 homes entirely and damaged 96,000 more.
"We have no agenda other than to meet our statutory duties under the Rome Statute with professional integrity," stated Fatou Bensouda, ICC Prosecutor in the issued statement.
Ms. Bensouda while recalled that she declined to investigate the Mavi Marmara Case of 2010 where IDF raids killed 10 Turkish Activists based on it having 'no reasonable basis to proceed', "In the current situation, however, there is a reasonable basis to proceed and there are admissible potential cases." she acknowledged. The decision to proceed was made after a five-year-long preliminary examination and continuous meetings with Palestinian and Israeli stakeholders throughout. A formal request was then made to the Pre-Trial Chamber I on December 2019 for clarity in terms of the territorial jurisdiction of the International Criminal Court. On 5th February this year, Judges ruled in the favor of the Court's exercising its jurisdiction over war crimes on Palestinian lands despite Israel's protests which isn't a member of the Court.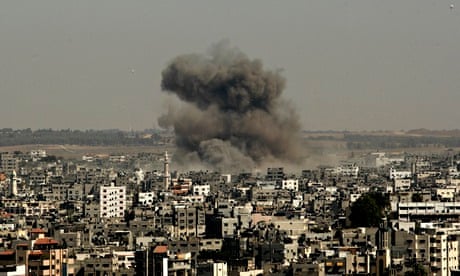 The Guardian - Photograph: Majdi Fathi/Corbis
"The Court's territorial jurisdiction in the Situation in Palestine ... extends to the territories occupied by Israel since 1967, namely Gaza and the West Bank, including East Jerusalem," Judgement stated. The court also made clear that it isn't determining Palestinian statehood or Legal borders.
Analysts have been bringing up the issue of landmark Oslo Accords of the 90s being the obstacle in the ICC jurisdiction even after ICC has ruled out otherwise anyway because Oslo Accords gave Israel absolute criminal jurisdiction over Crimes by Israelis in occupied Palestinian territories and I guess that's why the Accords were so 'landmark' but the point is Oslo Accords lost its validity the moment Israel planned to annex large portions of West Bank last year.
"If Israel proceeds with annexation, a material breach of the agreements between the two sides, then it will have annulled any remnants of the Oslo Accords and all other agreements concluded between them." wrote Palestinian Foreign Minister Riyad al-Malki in the summer last year to three ICC judges when asked about clarification over Mahmoud Abbas' speech earlier in which he remarked the same. Another often drawn reasoning to refute the ICC jurisdiction is that Palestine isn't a state party as it can't exercise jurisdiction over that land it claims. Although that sounds ridiculous that Palestinians can't have human rights because It's not considered as a state, but that's not why ICC turned down an Israeli-driven narrative.
"Accords never stripped Palestinians of their ability to delegate such jurisdiction to the ICC in the first place," argued Yassir Al-Khudayri in Opinio Juris where he explained how such bilateral agreements can only influence the state executed jurisdiction and 'the ability to delegate jurisdiction does not derive from the ability to exercise jurisdiction.'
Israel reacted to the decision the way it was expected to, resentfully. Prime Minister Netanyahu condemned the decision claiming it to be 'pure Anti-Semitism' and asserted that the ICC was established to fend off the horrors like the Holocaust, but now it's attacking the only Jewish state. He also complained that the very Court declined to investigate the 'brutal dictatorships like Iran and Syria' and finally when ICC has decided to launch a formal investigation, Israel again came after the Court but this time, it's the President Rivlin, who denounced the decision as 'scandalous'.
"We will not accept claims against the exercise of our right and our obligation to defend our citizens," he remarked.
The National News
First of all, the Permanent International Criminal Court was set up on 1 July 2002, two years after 120 states embraced the Rome Statute, to prosecute the war crimes and genocides against humanity, not just Jews and the fact that it isn't coming after just Israel, makes it crystal clear because Fatou Bensouda will also look into the Hamas and other Palestinian armed factions intentionally targeting Israeli population in rocket attacks and using Palestinian civilians as 'human shields' while Hamas has stated plainly that it's not afraid of being investigated.
"The Palestinians did not commit crimes in violation of the law, but rather defended their land and themselves, and the right to resist the occupation is guaranteed by international laws."
Hamas media department head Rafat Morra told the Middle East Eye.
Palestinian Authority President Mahmoud Abbas has also welcomed the Investigation and applauded 'the independence and courage of the Prosecutor in defending the truth and freedom'. And why he shouldn't? Palestinians are the ones who have been fighting for this investigation since they became an ICC member in 2015 and that's not all. Gaza's Great March of Return in 2018, in which thousands of Palestinians marched along the West Bank barrier, demanding their right to return to their homeland 750,000 Palestinians were expelled from in 1948, faced the same Zionist Oppression. Israeli snipers and forces shot dead 266 protestors and injured around 30,000 more in a year. The use of force by the IDF on unarmed Palestinian protestors and the terrible state of human rights is a legitimate concern raised every year by several Independent bodies like Human Rights Watch, Amnesty International, and the United Nations Council of Human Rights. Another major concern is forced evictions and unlawful demolition of Palestinians' homes to pave the way for further illegal Israeli settlements. Last month, European Union called Tel Aviv to cease the demolition of Palestinian villages after it tossed 60 Palestinians homeless 35 of which were children, bulldozing their homes in Hamsa al-Foqa in northern Jordan valley and that's just a few among hundreds of thousands been displaced over decades.
The prospects and duration of this investigation depend on a number of factors. As far as the duration is concerned, there is no way to evaluate it for sure, but it certainly won't be a quick route to trail considering the years-long preliminary examination and how long it took the Court to just clarify its territorial jurisdiction. Even though Fatou Bensouda has been pursuing the subject for several years now, and she got to have a substantial volume of material in front of her already, political and legal barriers in the way are just getting started to surface beside the fact that the issue isn't political at all.
Another snag in the way of seamless investigation and trial, is the United States which had been there to back Israel in the face of every adversity throughout the life span of the Zionist regime, and it again proved the 'loyalty' when the Secretary of State Antony Blinken responded to the ICC decision.
Anna Moneymaker /The New York Times
"The ICC has no jurisdiction over this matter. Israel is not a party to the ICC and has not consented to the Court's jurisdiction, and we have serious concerns about the ICC's attempts to exercise its jurisdiction over Israeli personnel." stated Antony Blinken this Thursday.
The statement clearly asserts the fact that it doesn't matter how far the Biden administration claim that it's willing to go in order to put a check on human right abuses and how many Trump era policies it has reversed already to do so, Washington isn't going 180° on its partnership with Tel Aviv and that can be reaffirmed from another fact. Antony's predecessor Mike Pompeo had condemned the International Criminal Court as 'kangaroo court' last year while blacklisting the ICC Prosecutor Ms Fatou Bensouda and the head of the ICC's Jurisdiction, Complementarity and Cooperation Division, Phakiso Mochochoko resulting in asset freeze and travel bans when Ms Bensouda was looking into the alleged war crimes & right abuses in Afghanistan by Taliban, US Military and Afghan forces. There has been a persistent demand to lift these sanctions since the day Joe Biden took office and according to the State department spokesperson statement given in January, they did 'thoroughly review' the sanctions in an attempt to terminate them, but maybe it was their 'review' or Israel's pressure in the way of doing so, the Biden administration has faced criticism over the failure to not lift the sanctions so far. The Point is, ICC won't be able to do its job that effectively if the United States of America, the world's most powerful and influential country decide to stand in its way, but ICC has stated it clearly that it will attempt to seek the truth anyway, despite every strive to cover it up by anyone.
"It is for the world to decide now whether might is so right as to detract this international court of law." remarked Chile Eboe-Osuji, President of the International Criminal Court in HARDtalk with Stephen Sackur last year when asked the same question about the future of this process in the view of US denial to cooperate, affirming that the Court won't be scared off by the UC 'coercion'. Another important factor which can delay or even impact the probe in various ways is that Ms Fatou Bensouda is just about to replace by the British Prosecutor Karim Ahmad Khan, and he isn't necessarily bound to follow the footsteps of Ms Bensouda.
TIME - Abdullah Asiran—Anadolu Agency via Getty Images
Time alone can tell how far and how much decisively the ICC will be able to investigate the human rights abuses on Palestinians if Israel won't even let them visit the territories and talk with the victims, which it surely won't, considering the panicked response in Tel Aviv reported by the Israeli media after the ICC announcement. In less than a few hours of the statement, Haaretz reported that Israel is mapping out the plans to brief hundred of military officials amid their potential exposure to prosecution and possible arrests on foreign travel with Benny Gantz, now Israel's defense minister and leader of the Blue and White party one of those under the threat as he was military chief of staff in 2014 at the time when Palestinians went through unspeakable horrors. That's why Israel needs those US sanction now more than ever because even if it won't admit, it's the closest Israel has ever been to reap what its has sown in decades.
Eboe-Osuji had also stated in his interview that he realizes that efforts by ICC haven't been that much fruitful in geopolitically conflicted regions where its officials weren't allowed to operate freely like Afghanistan, Myanmar and Syria but "as long as we have a permanent International Court, there will always be hope, that those who grossly violate human rights and commit international crimes, they can run, but they can't hide forever" he said.